Stainless Steel Tubular Pole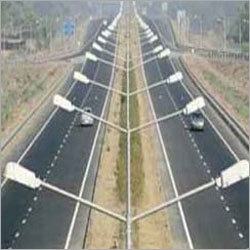 Stainless Steel Tubular Pole
Price And Quantity
Unit/Units

40000.00 - 400000.00 INR
Product Description
A stainless steel tubular pole is a type of lighting or support structure made of stainless steel tubing. Stainless steel is a type of steel alloy that contains at least 10.5% chromium, which provides excellent resistance to corrosion and oxidation, making it a popular material choice for outdoor applications.Stainless steel tubular poles are commonly used in high-end applications where corrosion resistance and aesthetic appeal are important, such as upscale residential areas, city centers, and commercial spaces. They are also used in applications where hygiene and sanitation are critical, such as in the food and beverage industry or medical facilities.
Stainless steel tubular poles come in various shapes and sizes, including round, square, and tapered. They are typically manufactured as single-piece poles and can be customized to fit specific installation requirements.Stainless steel tubular poles are known for their durability, strength, and low maintenance requirements. They are often more expensive than other materials such as steel or aluminum, but their long lifespan and resistance to corrosion can make them a cost-effective choice in the long run.
Presenting our Stainless Steel Tubular Pole, the ideal answer to all outdoor lighting requirements. This pole is strong, corrosion-resistant, and designed to withstand the worst weather because it is made of premium stainless steel. This tubular pole is not only practical but also provides a sense of beauty to any outdoor scene thanks to its sleek, contemporary form. Stainless steel tubular pole has a classy appearance because to its polished, smooth finish, which makes it a great option for both business and residential settings.
Contact Us
Head Office : No.33/96, Poorna Complex, Chowk Topi Bazaar, Kanpur, Uttar Pradesh, 208001, India
Phone :+918037744372