Industrial Electrical Transmission Pole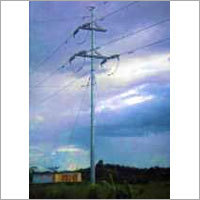 Industrial Electrical Transmission Pole
Product Description
An industrial electrical transmission pole is a tall structure used to support power lines and transmit electrical power over long distances in industrial applications. These poles are typically made of steel and can be several tens of meters high.Industrial electrical transmission poles come in various designs, depending on the application and specific requirements. They can be single-pole structures, lattice towers, or monopoles, and can be designed to accommodate multiple power lines.
These poles are used to transmit high voltage electrical power from power generation stations to industrial facilities such as factories, mines, and refineries. They are designed to withstand harsh environmental conditions such as strong winds, extreme temperatures, and seismic events.Industrial electrical transmission poles are critical infrastructure components for industrial facilities, and their proper design and maintenance are essential to ensure the continuous and reliable supply of electrical power to the facility. Regular inspection and maintenance are required to identify and address any issues or damages that may compromise the structural integrity of the pole and the safety of the power transmission system.
Our Industrial Electrical Transmission Pole is a dependable and durable option for sending electrical power across great distances. They are built to withstand severe weather and environmental variables. In order to provide the effective and safe transmission of power over great distances, they have been built to support enormous loads of electrical cables. Industrial Electrical Transmission Poles work well over a long period, require little maintenance, and are simple to install. Power plants, sub-stations, and other heavy-duty electrical transmission installations are merely a few of the industrial uses that they are suitable for.
Contact Us
Head Office : No.33/96, Poorna Complex, Chowk Topi Bazaar, Kanpur, Uttar Pradesh, 208001, India
Phone :+918037744372