Highmast Lighting Project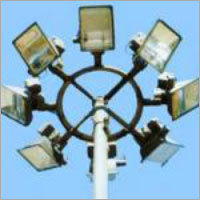 Highmast Lighting Project
Price And Quantity
Piece/Pieces

75000.00 - 500000.00 INR
Product Description
A high mast lighting project involves the installation of high mast lighting structures to provide adequate illumination for large outdoor areas such as highways, airports, seaports, and sports stadiums. High mast lighting projects are typically implemented to improve visibility, enhance safety, and increase security in these areas.The high mast lighting project begins with a site survey to determine the lighting requirements and the best locations for the high mast poles. The project team will then design the lighting system, taking into consideration factors such as the height and spacing of the poles, the type of lighting fixtures, and the lighting distribution pattern.
Once the design is finalized, the high mast poles and lighting fixtures are installed. The installation process involves excavating the foundation, erecting the pole, and installing the lighting fixtures. The wiring and electrical connections are also made, and the system is tested to ensure that it meets the required specifications.After installation, the high mast lighting system requires regular maintenance to ensure optimal performance. This may involve cleaning the fixtures, checking the electrical connections, and replacing any damaged or faulty components.Overall, a high mast lighting project is a complex undertaking that requires careful planning, design, and implementation to ensure that the lighting system meets the required standards and provides the desired benefits for the area being illuminated.
For huge outdoor areas, including highways, airports, ports, and industrial zones, we have introduced the Highmast Lighting Project, a full lighting solution. Our project is designed to offer excellent lighting while ensuring the highest levels of ecological sustainability and longevity. This lighting project essentially involves the precise design, high-quality production, and easy installation of high mast poles with LED lighting that produces a bright light. The Highmast Lighting Project is built to withstand harsh weather and environmental conditions. It has been manufactured from quality steel, meanwhile ensuring reliable as well as durable operation.
Contact Us
Head Office : No.33/96, Poorna Complex, Chowk Topi Bazaar, Kanpur, Uttar Pradesh, 208001, India
Phone :+918037744372